2014 will be the 10th consecutive year that the Belgian Music Publishers introduce themselves as a  group to the thousands of visitors (music professionals as well as general public music adepts) visiting the Internationale Musikmesse in Frankfurt every year. This year they will together promote their joint digital sheet music library mypartitor.com.
SEMU, the Belgian Association of Music Publishers,  offers to all its members/music publishers the opportunity to take part in this advantageous cooperative initiative, offering a large multiparty booth, where every music publisher gets an appropriate space and visibility. Not only do the music publishers thus get the chance to meet with their international business contacts, but it also means a great showcase on an international platform for the Belgian and foreign composers in their portfolio.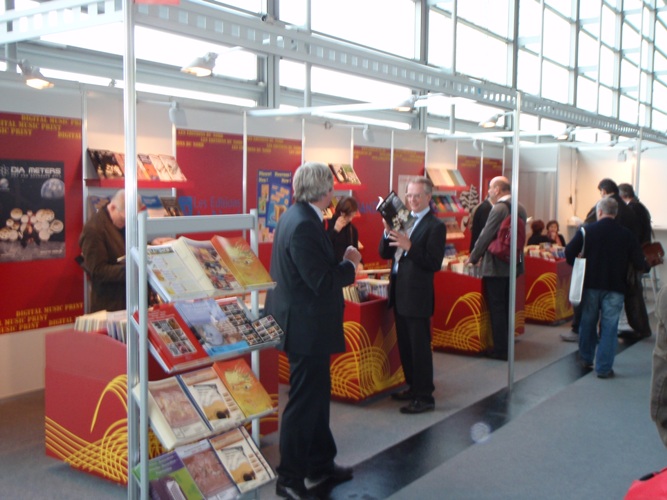 The reactions to this cooperation are each year unanimously positive, from visitors and participating publishers alike. This annual presence at the Musikmesse in Frankfurt has now become a returning practice. But the cooperation is repeated in initiatives on other international trade fairs too  (e.g. Music China, Chicago-Mid West, Tokyo, Salon de la Musique in Paris, Los Angeles NAMM, … ).
Among the participating publishers for this 2014 edition of Musikmesse Frankfurt are Andel, Golden River Music, Digital Music Print (DMP), Euprint, Metropolis Music, Les Editions du Nord and UMMP.
Digital offer MyPartitor.com
This year, the booth will be furnished with a large screen, on which visitors can familiarize themselves with the digital sheet music library MyPartitor (shop.mypartitor.com), which already contains a major part of the impressive repertoire of the participating publishers.
Visitors looking for new sheet music can rummage to their heart's desire through the impressive repertoire of the participating publishers.
Music retailers have the possibility to integrate the MyPartitor library easily into their own website, without investment but earning the usual professional commission on sales through their website.
New music publishers are welcome to join and to add their publications to the MyPartitor library and take advantage of the joint marketing efforts that are organized around their offer.
Composers are warmly invited to come and talk about publishing and marketing their new compositions with the participating publishers.
Educational institutions, music bands, orchestra's and choirs benefit from a license for unlimited use of the digital library "Partitor".
All very good reasons to plan a visit to the booth of the Belgian Music Publishers and the Partitor association to get acquainted and have a chat about the interesting opportunities for future cooperation.

Looking forward to meeting you
12 to 15 march 2014
Frankfurt Internationale Musikmesse
Booth 3.1.A28 in hall 3
Contact :  Partitor vzw
Oude Molenstraat 7, 9170 De Klinge
T. +32 3 296 33 67
Mail: support@mypartitor.com